President Donald Trump says that millions of lives have been put at risk as a result of the false narrative that he and his campaign colluded with Russia during the 2016 presidential election.Speaking aboard Air Force One on Nov. 11 while on a 12-day tour of Asia, Trump said the collusion narrative has damaged America's relationship with Russia.As a result, it has become difficult for the United States to get Russia's support in pressuring North Korea through economic means to give up its nuclear weapons program.While the Trump administration is currently pursuing a diplomatic solution to achieve a denuclearized North Korea, military options are on the table in case the situation escalates."You're talking about millions and millions of lives. This isn't baby stuff. This is the real deal. And if Russia helped us, in addition to China, that problem would go away a lot faster," Trump said."It's a dangerous time—this isn't small stuff," Trump said. "This is a very dangerous time."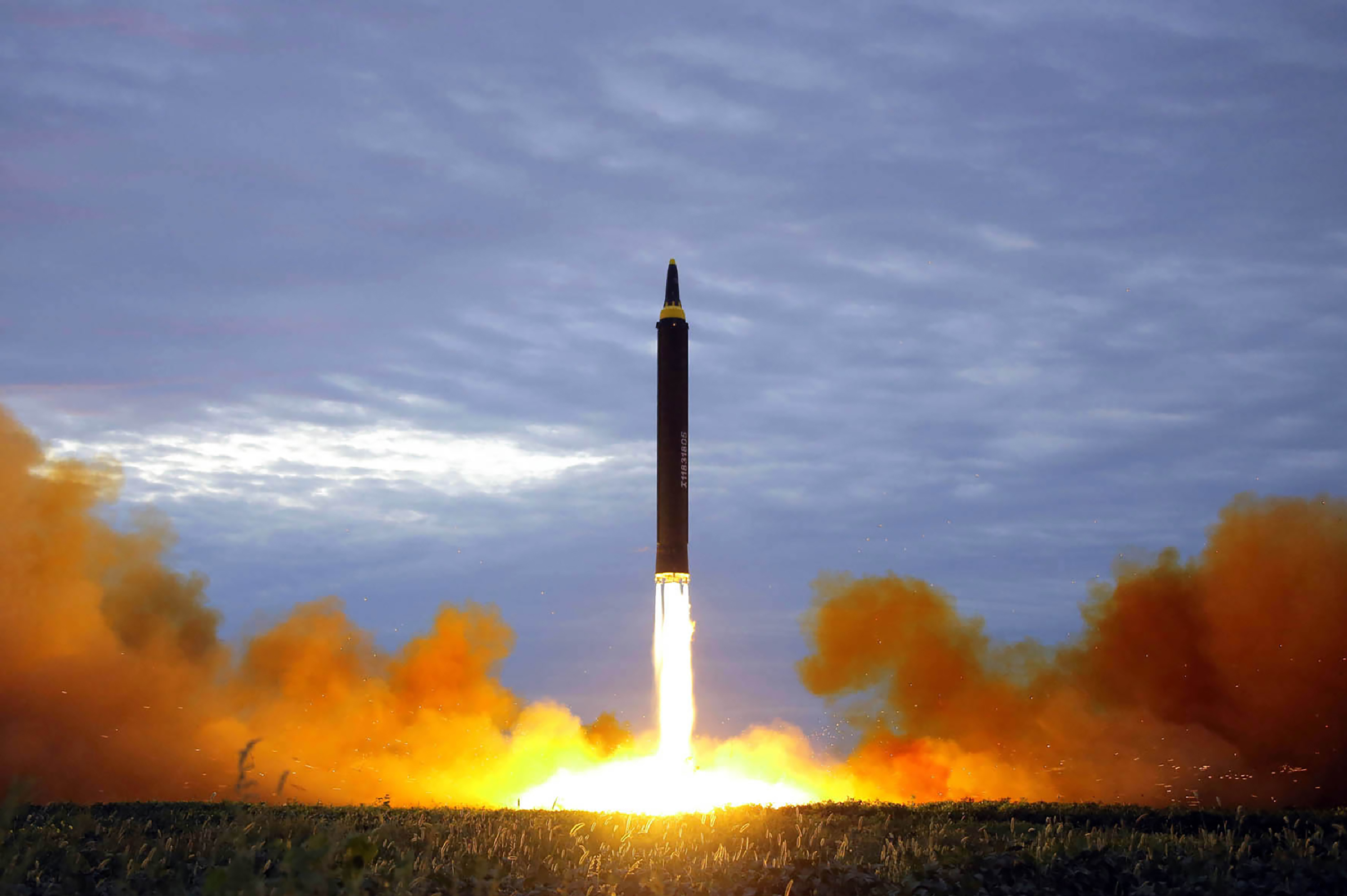 A ballistic missile fired by the North Korean regime on Aug. 29, 2017, in this image provided by state media. (STR/AFP/Getty Images)Finding a solution to the North Korean nuclear crisis was the No. 1 priority for Trump's visit to Asia. But while Japan, South Korea, and even China have stepped up efforts against the isolated communist state, Russia appears to have been lagging behind.Evidence emerged last month that one of the main sources of the collusion allegations, a dossier produced by a firm called Fusion GPS, was paid for by the Clinton campaign and the DNC.Trump said that while China has ordered its banks to cut off financing to North Korea and has reduced oil sales and trade, Russia might, in fact, be making up for losses that North Korea is suffering.Since coming to office, Trump has cultivated a close relationship with Chinese leader Xi Jinping, hosting him in Florida in April. Given the accusations of collusion between the Trump campaign and Russia, the president said he's been unable to build up a close relationship with the Russian president."President Putin would be tremendously helpful, tremendously helpful if I had Russia and China on North Korea. I think that would solve it, but this artificial barrier gets in the way," Trump said."I call it the 'artificial Democrat barrier.' It gets in the way, which is a shame."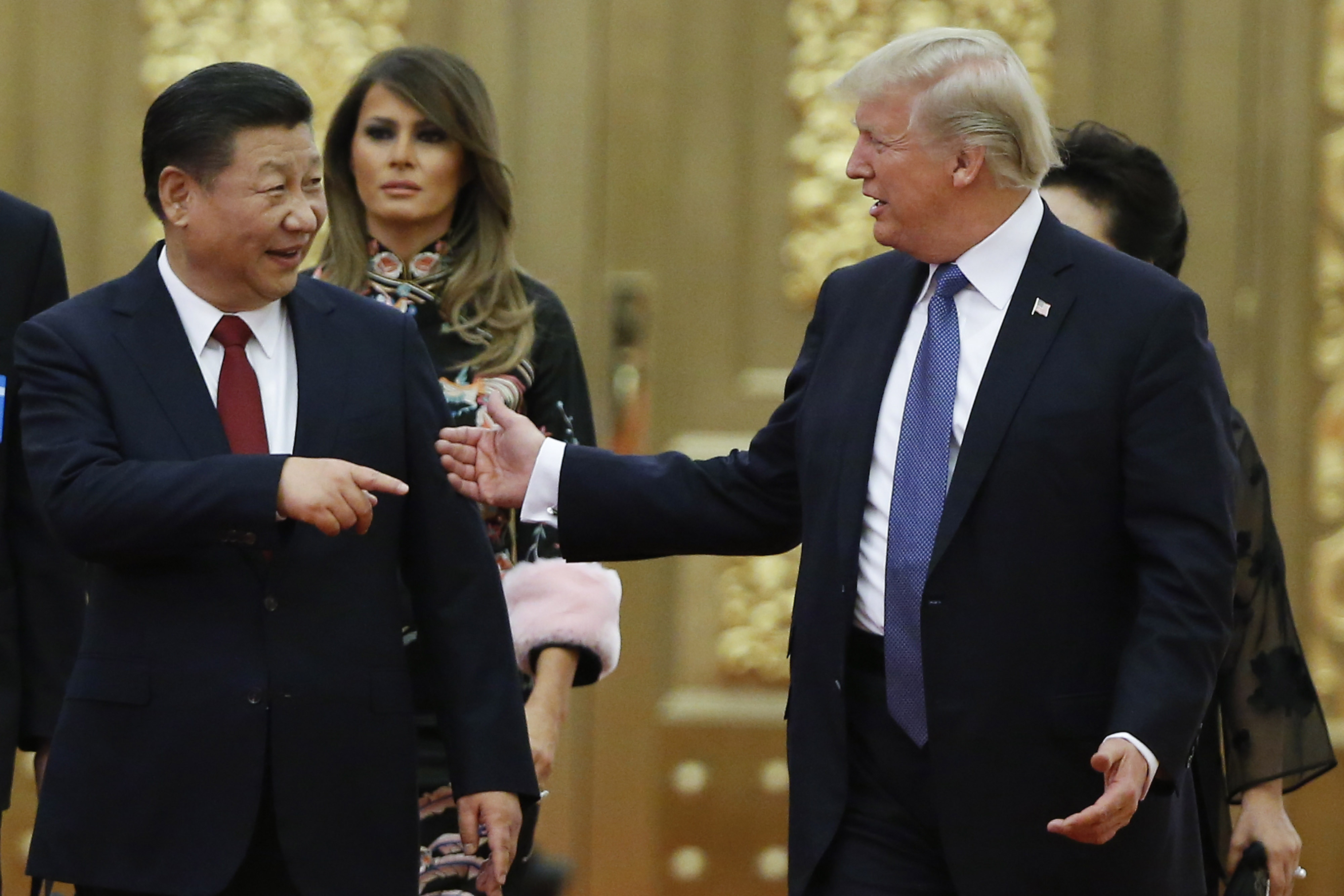 President Donald Trump and China's leader Xi Jinping arrive at a state dinner at the Great Hall of the People on Nov. 9, 2017, in Beijing. (Thomas Peter – Pool/Getty Images)Since Trump won the election last year, his opponents have leveled accusations that he colluded with Russia to secure his win.However, after a year of investigations, no proof of such collusion has been found. Former Director of National Intelligence James Clapper, who oversaw a joint intelligence agency investigation into alleged Russian meddling in the election, said under oath before Congress on May 8 that there had not been any evidence of collusion between the Trump campaign and Russia.High-ranking Democrats, such as Senate judiciary committee ranking member Sen. Dianne Feinstein (D-Calif.), have also said there is no evidence of collusion.According to "Shattered," a book telling the inside story of Hillary Clinton's campaign, within 24 hours of her loss, Clinton's team developed a strategy to focus on Russian hacking. This would be presented as the untold story of the election, which explained her loss as being due to interference.Evidence emerged last month that one of the main sources of the collusion allegations, a dossier produced by a firm called Fusion GPS, was paid for by the Clinton campaign and the DNC.
Democratic presidential candidate Hillary Clinton makes a concession speech after being defeated by Republican president-elect Donald Trump in New York on Nov. 9, 2016. (JEWEL SAMAD/AFP/Getty Images)The Washington Post reported that the payments to the company were hidden by the Clinton campaign and the DNC by routing them through the law firm Perkins Coie. The payments were also intentionally mislabeled in FEC filings.The 35-page dossier, marked as classified, relies almost exclusively on Kremlin-linked sources. These include a senior Kremlin official, a senior Russian official in the Russian Foreign Ministry, and a former top-level Russian intelligence officer still active in the Kremlin.If Russia helped us, in addition to China, that problem would go away a lot faster. — President Donald TrumpLaw professor Ronald Rychlak, a leading expert on Russian disinformation operations, told The Epoch Times that the Trump dossier bears the hallmarks of a classic Russian disinformation campaign.The unsubstantiated dossier was spread among politicians and the media in an attempt to discredit Trump. The author of the report, former British MI-5 spy Christopher Steele, was instructed by Fusion GPS to give at least two in-person briefings on the content of the report to a number of media organizations, including The New York Times and The Washington Post, British court documents show. Steele is currently being sued for libel in the UK by a Russian businessman mentioned in the report.Paying for the gathering and disseminating of false information from Russian officials has raised questions about possible collusion by the DNC and the Clinton campaign."There's clear evidence of the Clinton campaign colluding with Russian intelligence to spread disinformation and smear the president to influence the election," White House press secretary Sarah Sanders said on Oct. 30.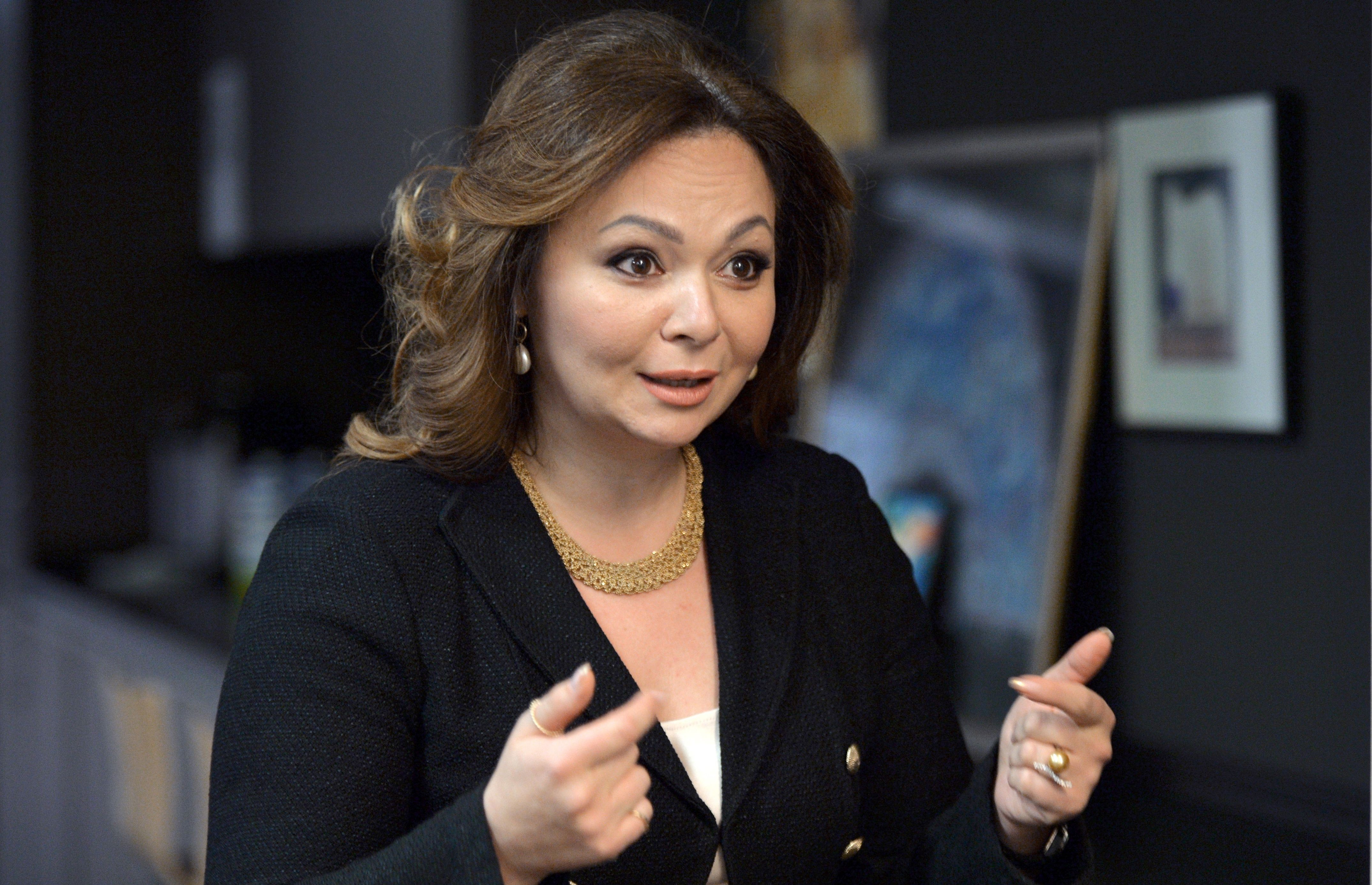 Russian lawyer Natalia Veselnitskaya in Moscow on Nov. 8, 2016. (YURY MARTYANOV/AFP/Getty Images)Last week, Fox News, citing a confidential source and court documents, said that Russian lawyer Natalia Veselnitskaya met with Fusion GPS co-founder Glenn Simpson before and after her meeting with Donald Trump Jr. in June 2016. The meeting between Veselnitskaya and Trump Jr. became front page news earlier this year, as it allegedly pointed to collusion with Russia. Those claims were denied by Trump Jr., who said the meeting was part of opposition research. Now, the involvement of Fusion GPS, which was at the time being paid by the Clinton campaign and the DNC, is raising questions of whether the meeting was a setup in an attempt to create the illusion of collusion by the Trump campaign."I think it's a shame that something like that [the accusations of collusion] could destroy a very important potential relationship between two countries that are really important countries," Trump said onboard Air Force One.Trump made similar statements throughout his presidential campaign, saying it was beneficial for the United States and Russia—two powerful, nuclear-armed nations—to get along well, rather than be adversaries. He argued that a bad relationship would drain American resources and put its interests at risk.Similarly to Trump, former President Barack Obama and former Secretary of State Hillary Clinton tried to cultivate a better relationship with Russia.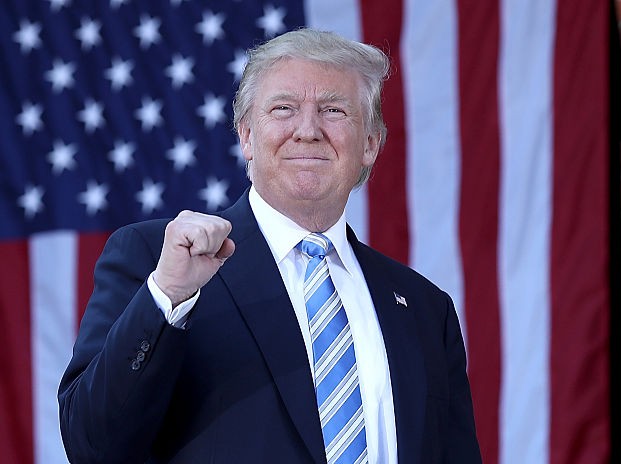 Republican presidential candidate Donald Trump arrives on stage while campaigning at Regent University in Virginia Beach, VA., on Oct. 22, 2016. (Win McNamee/Getty Images)In 2009, soon after coming to office, Obama called for a "reset" in relations with Russia during a visit to Moscow."America wants a strong, peaceful, and prosperous Russia. … On the fundamental issues that will shape this century, Americans and Russians share common interests that form a basis for co-operation," Obama said in Moscow on July 7, 2009."That is why I have called for a 'reset' in relations between the United States and Russia. This must be more than a fresh start between the Kremlin and the White House, though that is important."Just a few months earlier in Geneva, Clinton presented her Russian counterpart, Russian Foreign Minister Sergey Lavrov, with a big red symbolic button labeled with "reset" in English and, famously, the wrong Russian translation for the word "reset."
The hands of U.S. Secretary of State Hillary Clinton and Russian Foreign Minister Sergei Lavrov rest on a red button marked "reset" in English and "overload" in Russian, which U.S. Secretary of State Hillary Clinton handed to Russian Foreign Minister Sergei Lavrov during a meeting on March 6, 2009, in Geneva. (FABRICE COFFRINI/AFP/Getty Images)"I would like to present you with a little gift that represents what President Obama and Vice President Biden and I have been saying, and that is, we want to reset our relationship, and so we will do it together," Clinton told Lavrov.Attempts to improve relations with Russia were made throughout Obama's first term as president.During the 2012 Presidential campaign, Obama ridiculed his Republican opponent, Mitt Romney, for suggesting that Russia is America's biggest geopolitical foe."Gov. Romney, I'm glad that you recognize that al-Qaida is a threat, because a few months ago when you were asked what's the biggest geopolitical threat facing America, you said Russia, not al-Qaida. … The 1980s, they're now calling to ask for their foreign policy back because, you know, the Cold War's been over for 20 years," Obama said during the final debate of the presidential campaign.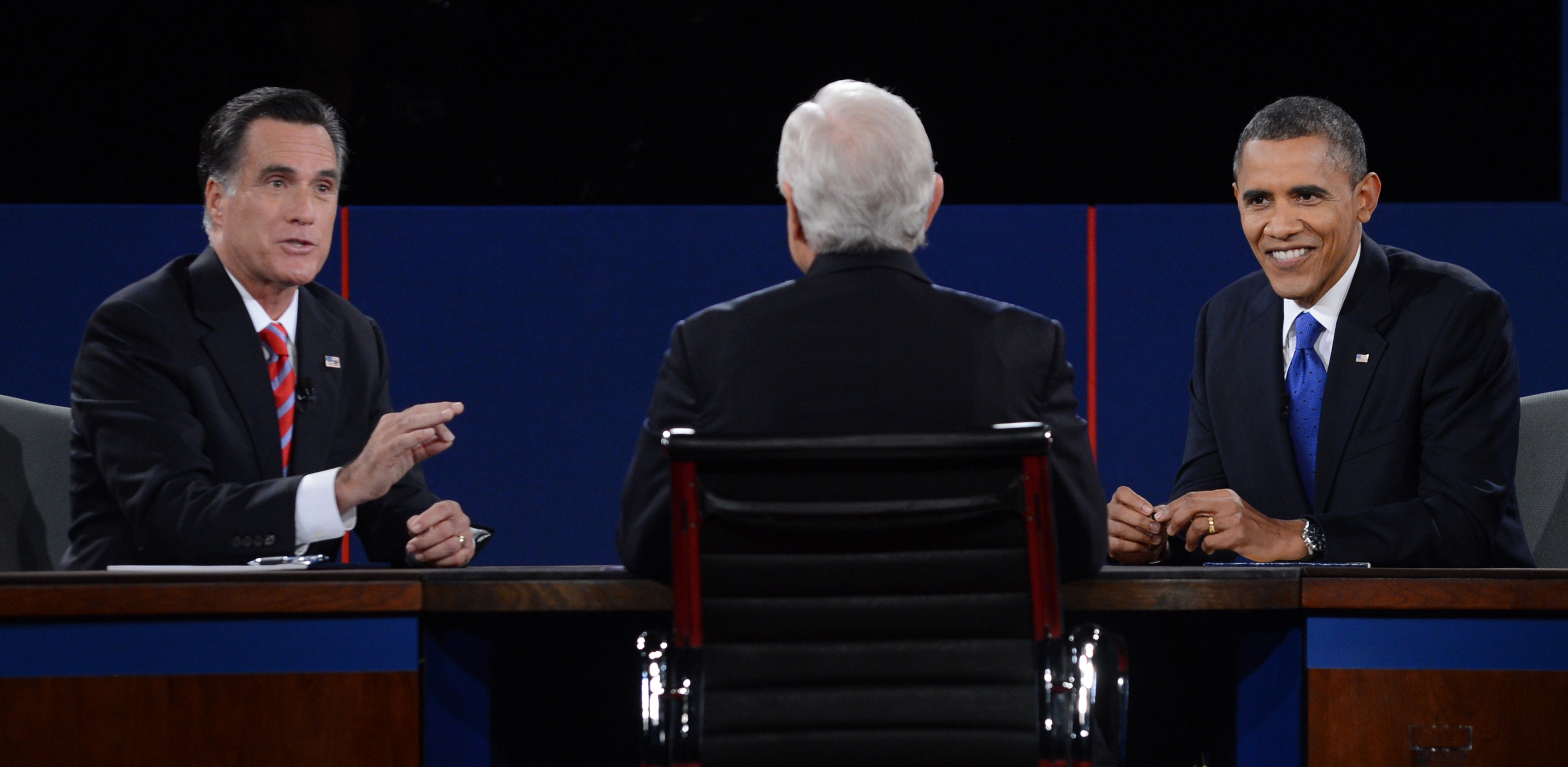 President Barack Obama and Republican Presidential candidate Mitt Romney participate in the third and final presidential debate, moderated by Bob Schieffer (C) of CBS, at Lynn University in Boca Raton, Florida, on Oct. 22, 2012. (SAUL LOEB/AFP/Getty Images)However, relations between the United States and Russia deteriorated sharply during Obama's second term in office over issues such as missile defense in Eastern Europe, Russia's annexation of Crimea, and the conflict in Syria."Obama tried and he failed," Trump said aboard Air Force One. "Couldn't have it, because he didn't have chemistry. They didn't have the right chemistry. And you know what, I understand that, because there are some people I don't have chemistry with."When asked by reporters whether he believed Russia meddled in the elections, Trump said that he had pressed Putin on the topic multiple times."Every time he sees me, he says, 'I didn't do that,'" Trump said. "And I believe—I really believe that when he tells me that, he means it."One of the key allegations against Russia is that it was behind the hacking of DNC servers during the presidential election. However, intelligence agencies have not been able to independently establish this as fact.Former FBI Director James Comey said during a March 20 House intelligence committee hearing that the FBI "never got direct access to the machines themselves."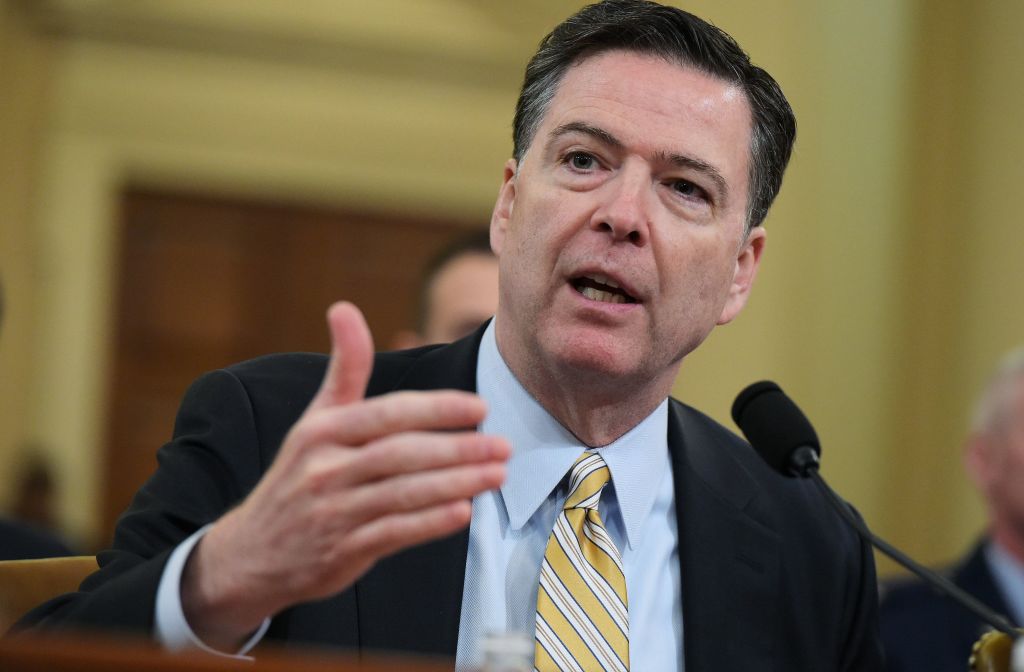 FBI Director James Comey during the House Permanent Select Committee on Intelligence hearing on Russian actions during the 2016 election campaign on Capitol Hill in Washington on March 20, 2017 (MANDEL NGAN/AFP/Getty Images)Instead, the DNC hired a third-party private company, CrowdStrike, and gave the results of their analysis to the FBI.This went against "best practice," Comey said, noting "our forensics folks would always prefer to get access to the original device or server that's involved, so it's the best evidence."However, neither the CrowdStrike blog post nor the FBI report contained conclusive evidence that Russia was behind the attack. While CrowdStrike stands by its claims, much of its analysis has since unraveled.CrowdStrike's hasty investigation was based on inconclusive methodologies, which merely looked at the type of target and the tools and code used to carry out the attack. Not only are tools and code such as these often bought, sold, and shared between hacker groups, but, as many cybersecurity experts have pointed out, it's also easy to spoof such information to intentionally frame a target."Malicious actors can easily position their breach to be attributed to Russia," states a blog post from the Institute for Critical Infrastructure Technology, a cybersecurity think tank."It would be easy to baselessly declare that all of the attacks were launched by Russia based on the malware employed," it states. Follow Jasper on Twitter: @JasperFakkert President Donald Trump and Russia's President Vladimir Putin talk during the Asia-Pacific Economic Cooperation (APEC) leaders' summit in the central Vietnamese city of Danang on Nov. 11. (JORGE SILVA/AFP/Getty Images) Show Discussion Share this article  LINKEDINPINTERESTREDDITTUMBLRSTUMBLEUPON  
Poor Diplomatic Relations With Russia Putting Millions of Lives at Risk, Says Trump US needs Russia's support in countering North Korea's nuclear threat, but relations have been damaged as a result of the unproven collusion narrativeBy Jasper Fakkert November 11, 2017 Updated: November 18, 2017 Share US News